Picture Sources: www.teamusa.org and www.theguardian.com
USA became the first country at the Olympics to win it's gold medal. 19 year  shooter,Virginia Thrasher, of West Virginia, had "conquered the women's 10-meter air rifle event this morning, setting an Olympic record in the finals," according to http://www.people.com/.
She had beaten Chinese shooter  Du Li, who many thought would win after she was the placed first at the 2004 Summer Olympics in Athens. Li took second place today scoring 207.0, behind Thraser's 208.0 score. Following Du Li, was her teammate Yi Siling, who was awarded the bronze medal with 185.4 points, noted by http://www.people.com/.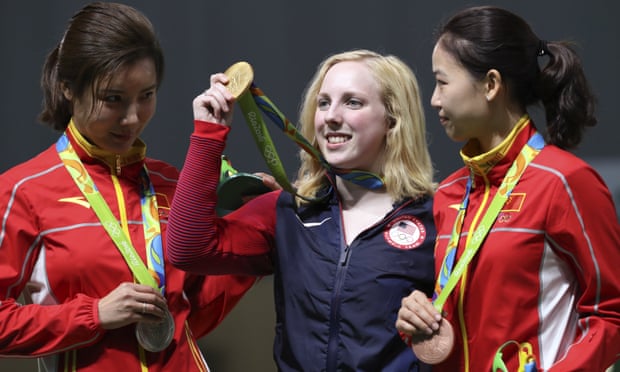 This is the first Olympics that Thrasher has competed in, but this certainly will not be the last time that we'll see her though. On August 11th, she will be competing in the three-position shooting.
The gold medalist revealed that she wanted to be an Olympic figure skater at one point in her life, but after spending some time going on hunting trips with the men in her family, she quickly changed her mind and grew a love for the sport.
Reflecting back to her first shooting experience, Thrasher told NBC that she had endured such an adrenaline rush that enticed her to continue being active in the activity that has led her to winning her very first Olympic gold medal.
According to http://www.people.com/, "Thrasher is the third woman for the United States to win gold in the women's 10-meter air rifle – which has been a part of the Olympic Games since 1984."
Source: http://www.people.com/people/package/article/0,,20996464_21023046,00.html?xid=socialflow_facebook_peoplemag